Delivery time:
2 - 5 days (5 - 10 days outside Europe)
Buy 10 for €82,86 each and save 16,3%
Buy 100 for €68,81 each and save 30,5%
Buy 1000 for €57,12 each and save 42,3%
Discounts are automatically calculated in your cart!
Certified premium freeze dried Nannochloropsis
NannoPrime consists of Nannochloropsis sp. that is produced under the most stringently controlled conditions (HACCP and FCA certified by SGS (FCA certificate BE 01/1522.GF)). It is freeze dried according to a proprietary process to yield a premium grade product with the longest shelf life, no nutrient leakage, maintenance of the correct lipid profiles and an ensured bioavailibility of ω-3 poly-unsaturated fatty acids.
Green Water Technique
Due to its processing NannoPrime readily and absolutely disperses into single cells at an average size of 2-4 µm. As a result it retains the characteristic buoyancy of live Nannochloropsis and remains in the water column for very long periods. Nannochloropsis is recommended in fin fish larviculture as a Green Water Treatment. Use of Nannochloropsis exerts a positive effect on bacterial communities in larval rearing tanks and significantly improves the overall health and survival rate.
Rotifer culture & (pre)-enrichment
Nannochloropsis sp. produced at Proviron accumulates high levels of the ω-3 poly-unsaturated fatty acid eicosapentaenoic acid (EPA) predominantly present in readily bioavailable polar lipid forms. It is also a rich source of pigments such as β-carotene, violaxanthin and zeaxanthin. The overall high carotenoid content combined with elevated levels of polyphenols and α-tocopherols provides Nannochloropsis with high antioxidant capacities.
Nannochloropsis are the algae of choice for cultivation and EPA pre-enrichment of rotifers.
Essential feed ingredient for early hatchery diets
NannoPrime is the perfect ingredient to increase the essential fatty acids content and the essential amino acid content in your larval diet. The algal product is easy to handle in all drying processes used for larval diets.
Typical fatty acid profile NannoPrime.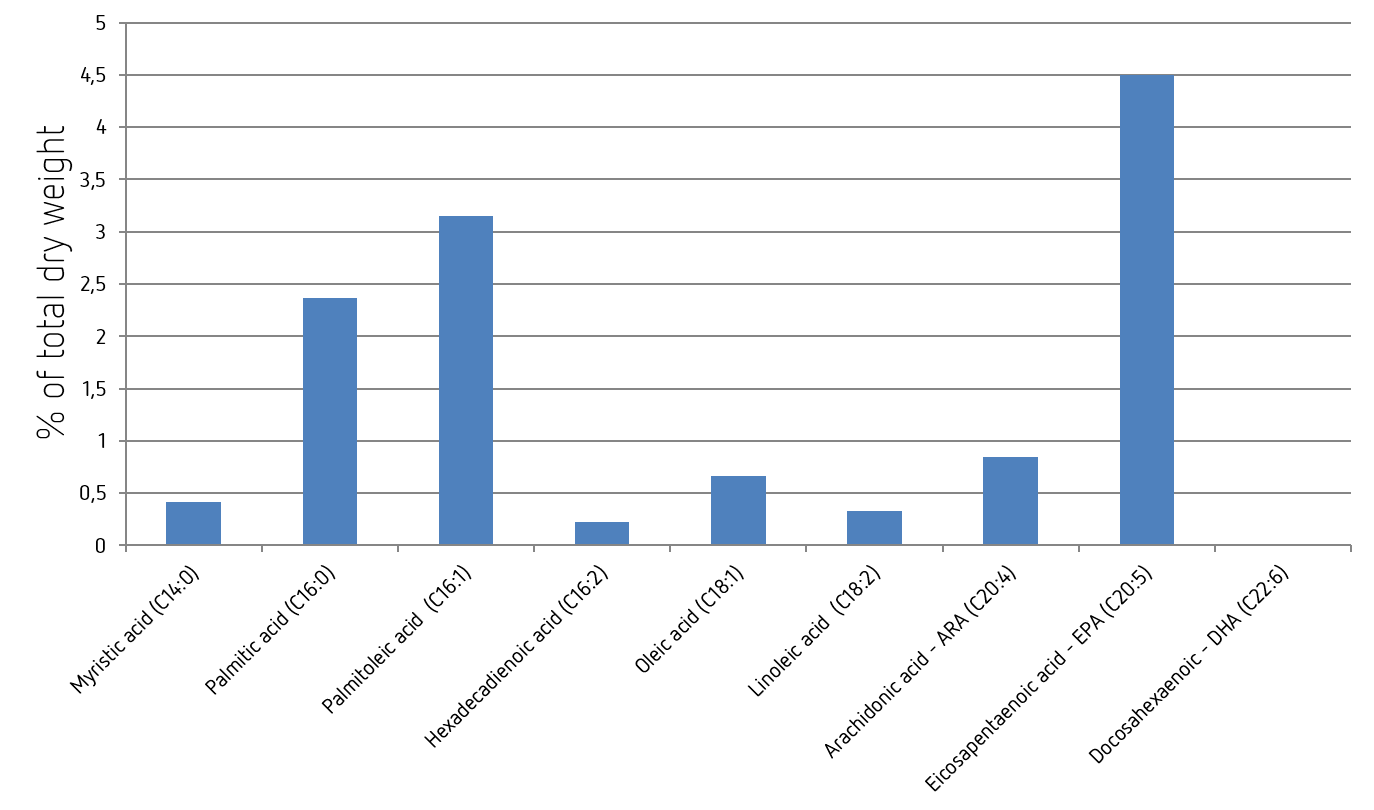 Typical amino acid profile of NannoPrime
| | | |
| --- | --- | --- |
| Cystein | 3,8 | g/kg |
| Valin | 23,6 | g/kg |
| Methionin | 9 | g/kg |
| Isoleucin | 18,2 | g/kg |
| Leucin | 34,8 | g/kg |
| Tyrosin | 14,7 | g/kg |
| Phenylalanin | 19,9 | g/kg |
| Lysin | 26,7 | g/kg |
| Histidin | 7,3 | g/kg |
| Arginin | 23,3 | g/kg |
| Asparaginic acid | 35 | g/kg |
Species
NannoPrime has a proven track record for the cultivation of the following species:
Marine finfish:
Seabass (Dicentrarchus labrax, …)
Seabream (Sparus aurata)
Turbot (Scophthalmus maximus)
Halibut (Hippoglossus sp.)
Sole (Solea solea)
Barramundi (Lates calcarifer)
Milkfish (Chanos chanos)
…
Crustaceans:
Black tiger shrimp (Penaeus monodon)
Whiteleg shrimp (Litopenaeus vannamei)
…
Mollusks/bivalves:
Oyster
Clam
Scallop
…
Product details:
Product packed under protective atmosphere light tight plastic bag
Shelf life:
24 months
Storage conditions:
room temperature
once opened, store under cool and dry conditions.
Guaranteed Pathogen Free
Related documents
NannoPrime is produced under HACCP and FCA certification by SGS (FCA certificate BE 01/1522.GF)) and is compliant with Directive 2002/32/EC on undesirable substances in animal feed.