Proviron NannoPrime

NannoPrime offers:
Optimal nutrient profile: High levels of the ω-3 poly-unsaturated fatty acid eicosapentaenoic acid (EPA), vitamins and pigments such as β-carotene, violaxanthin and zeaxanthin.
Single Cell dispersion: Excellent for Green Water Technique thanks to the small single cell dispersion. NannoPrime exhibits the same characteristics as live Nannochloropsis and remains in the water column for very long periods.
Gut development: Gives the larvae a head start by activating the digestive system.
Pathogen free:  No sourcing from natural salt water. No fish, shrimp, shellfish or other aquatic organisms (pathogen vectors) grown in the vicinity of our production. Constant biological monitoring.
Long shelf life: NannoPrime can be stored for 24 months in normal conditions. It does not need to be frozen or cooled.
Product leaflet
You can download the NannoPrime Product Leaflet here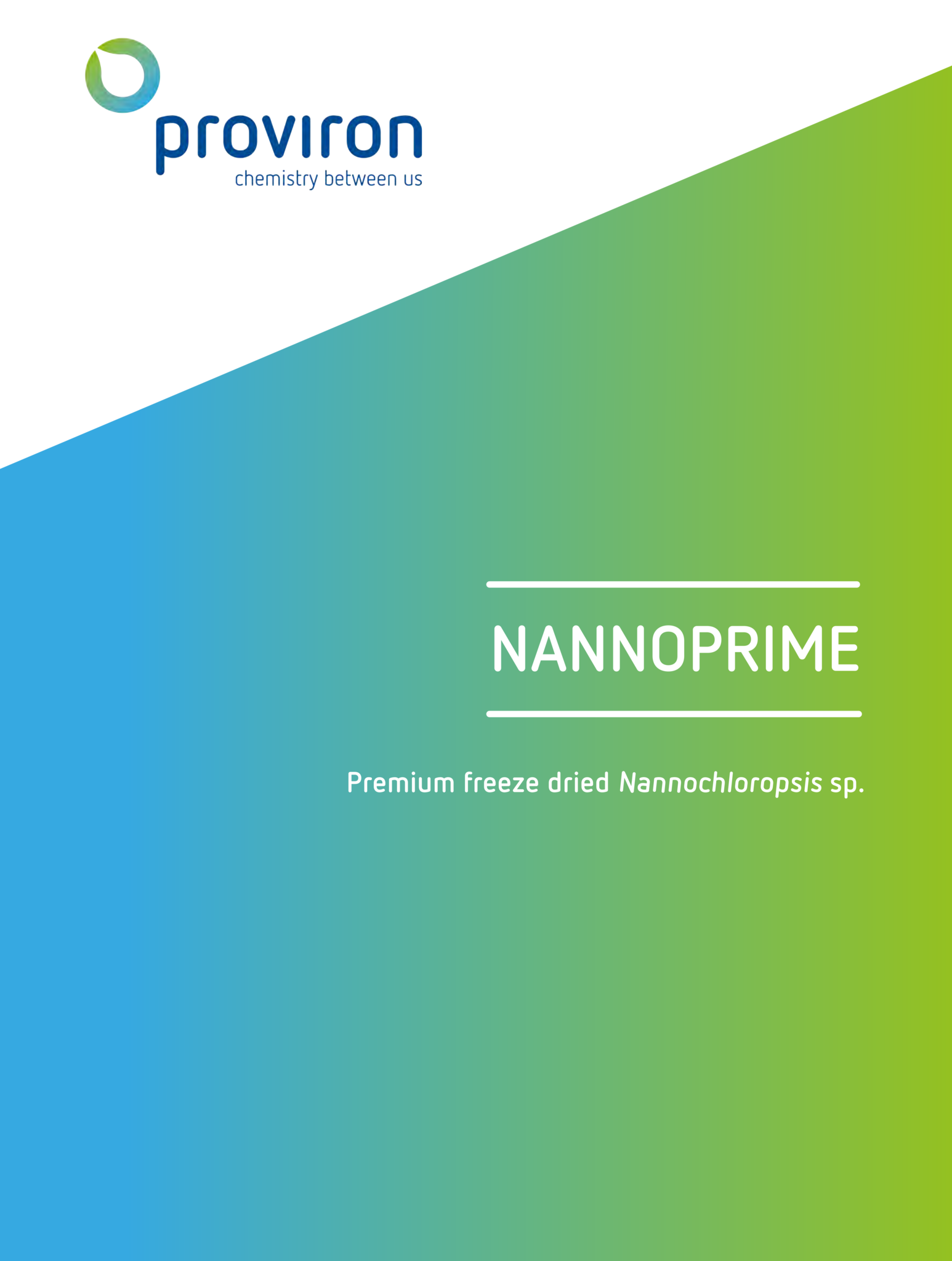 Certified premium freeze dried Nannochloropsis sp.
NannoPrime consists of Nannochloropsis sp. that is produced under the most stringently controlled conditions (HACCP and FCA certified by SGS (FCA certificate BE 01/1522.GF)). It is freeze dried according to a proprietary process to yield a premium grade product with the longest shelf life, no nutrient leakage, maintenance of the correct lipid profiles and an ensured bioavailibility of ω-3 poly-unsaturated fatty acids. 
Species
Nannochloropsis sp. has a proven track record for the cultivation of the following species:
Marine finfish:
Seabass (Dicentrarchus labrax, …)
Seabream (Sparus aurata)
Turbot (Scophthalmus maximus)
Halibut (Hippoglossus sp.)
Sole (Solea solea)
Barramundi (Lates calcarifer)
Milkfish (Chanos chanos)
…
Crustaceans:
Black tiger shrimp or giant tiger prawn (Penaeus monodon)
Whiteleg shrimp or King prawn (Litopenaeus vannamei)
…
Echinoderms:
Sea cucumber/sandfish (Holothuria scabra)
Sea urchin
…
Specifications
Cell size (µm):2-4
Cell count (cells/g):2-3 10E11
Total neutral fat (%):> 15%
Protein content (%):> 35%
Water content (%):< 10
Ash content (%):< 20
Vibrio species (/25g):absent
Salmonella (/25g):absent
Clostridium perfringens (cfu/g):< 10
Mercury (mg/kg):< 0.1
Lead (mg/kg):< 10
Cadmium (mg/kg):< 1